Shiraz Lane - Tour 2020
Shiraz Lane &nbsp
Hauptstraße 200
44892
Bochum
Event organiser: Libby Rockt! Event & Konzerte UG, Hauptstraße 200, 44892 Bochum, Deutschland
Information on concessions
Schwerbehinderte Personen mit B-Vermerk im Ausweis zahlen den Normalpreis. Die Begleitperson erhält freien Eintritt und benötigt kein eigenes Ticket. Ausweis am Eingang bitte unaufgefordert vorlegen.

Keine Altersbeschränkungen bei Konzerten, wenn nicht anders angegeben.
Event info
"Shiraz Lane is thrilled to announce that we shall return to Central Europe in February/March 2020. It's time to
step up the game since yours truly will be headlining the entertainment of the evening.
The tour consists mostly of German dates, but we have managed to sneak a show in the beautiful city of Vienna,
Austria & Tilburg, Netherlands to compete on which country takes the prize for the loudest audience and best
beers. Just kidding... We hope to see all of you Rock N' Rollers out there to show your support, because together
we will make this tour an unforgettable musical tornado! New songs, new show and a million volts of aural
energy will be delivered.
This tour will also feature our exceptional friends with anti-gravitational skills "Block Buster" & "Temple Balls"
taking a leap of faith by joining us on this caravan blessed by the Gods of Rock N' Roll.
Secure your tickets and join The Shiraz Lane Revolution!"
Location
Matrix Bochum
Hauptstraße 200
44892 Bochum
Germany
Plan route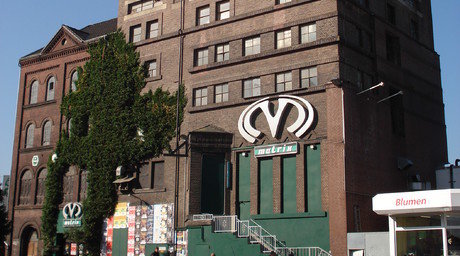 Sie ist skurril, mysteriös, verwinkelt und vor allem riesig: Die Matrix in Bochum ist eine der größten Diskotheken des Ruhrgebiets und hat sich bereits weit über die Grenzen der Stadt hinaus einen Namen gemacht.

Die Matrix befindet sich in einem elfstöckigen ehemaligen Brauereigebäude, das bereits 1806 erbaut wurde. Ab dem Ende der 1970er Jahre wird der Gebäudekomplex als Diskothek genutzt und entwickelte sich unter dem Namen "Rockpalast" zu einer Pilgerstätte für Anhänger der Metal- Szene. Seitdem der Laden im Jahr 2000 Besitzer, Konzept und Namen wechselte, erweiterte sich nicht nur das musikalische Angebot, sondern auch der Personenkreis, der nun die "Matrix" besuchte. Aus einem Labyrinth aus mehreren Etagen und insgesamt 4 Areas mit jeweils unterschiedlichen musikalischen Schwerpunkten, dringen die verschiedensten Klänge. Feiern kann man hier sowohl zu Rock, Pop aber auch zu Dance- und Chartmusik. Das Aushängeschild des Clubs ist allerdings nach wie vor das erstklassige Konzertangebot. Hier spielten bereits einige der bekanntesten nationalen und internationalen Rockbands wie beispielsweise Slipknot, Bullet for my Valentine, Boss Hoss, Danko Jones, Slayer oder Europe.

Erleben Sie mitreißende Konzerte, Feiern Sie durch die Nacht – Die Matrix wird Sie so schnell nicht mehr loslassen.