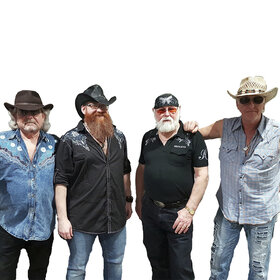 Joldelunder Open Air - ab 24:00 Fete Joldelund mit DJ
Creedence Clearwater Revived, AC/Dynamite, Ramrod &nbsp
Kohstieg 1
25862
Joldelund
Event organiser: Gerds Juke Joint, Bahnhofstr.1, 25862 Joldelund, Deutschland
Event info
CCR versorgte uns Ende der 60er und Anfang der 70er mit Hits, die die damalige Generation maßgeblich prägten und heute absoluten Kultstatus haben. Die Originalmitglieder der Band sind leider nicht mehr auf Tour, aber ihre Musik lebt durch die Neuformation von CCR weiter. Johnnie Guitar Williamson spielte damals selbst noch gemeinsam mit der Originalbesetzung und tourt seit über 18 Jahren gemeinsam mit Peter Barton, Chris Allen und Walter Day als Creedence Clearwater Revived um die Welt.

John Fogerty, Doug Clifford und Stu Cook formierten sich schon zu Schulzeiten im Jahr 1959 zu The Blue Velvets. Später stieß noch John Fogertys älterer Bruder Tom hinzu und das Quartett war komplett. Nach der Schule sprach nichts für eine weitere Karriere, doch 1964 erlangten sie die Aufmerksamkeit einer Plattenfirma. Drei Jahre später erfolgten dann der Durchbruch und die Umbenennung zu Creedence Clearwater Revival. Schöne und eingängige Songs wie "Suzie Q.", "Proud Mary", "Bad Moon Rising", "Who´ll Stop the Rain", "Hey Tonight" und "Have You Ever Seen the Rain" bescherten uns feinsten Rock aus Kalifornien. Es regnete Goldene Platten und dieser Regen schien nicht zu stoppen. Bis Tom Fogerty 1971 die Band verließ, um sich seiner Solokarriere zu widmen. Nach seinem Tod 1990 war auch der Wunsch einer Reunion in der Originalbesetzung nicht mehr zu erfüllen, was sich die Fans über Jahre sehnlich wünschten.

Lasst gemeinsam mit Creedence Clearwater Revived die 68er wieder aufleben, wie damals, als die Hits von CCR in Woodstock erklangen. Es ist ein Muss, diese legendäre Musik live erlebt zu haben. Jetzt Tickets sichern!