Alex Band of The Calling
Alex Band of the Calling &nbsp
Hauptstraße 200
44892
Bochum
Event organiser: Libby Rockt! Event & Konzerte UG, Hauptstraße 200, 44892 Bochum, Deutschland
Information on concessions
Schwerbehinderte Personen mit B-Vermerk im Ausweis zahlen den Normalpreis. Die Begleitperson erhält freien Eintritt und benötigt kein eigenes Ticket. Ausweis am Eingang bitte unaufgefordert vorlegen.

Keine Altersbeschränkungen bei Konzerten, wenn nicht anders angegeben.
Event info
ABOUT ALEX BAND, THE CALLING
Born and raised in the wild jungle of Hollywood, California, frontman and founding member of The Calling, Alex Band, first discovered his love for singing and songwriting at the age of 5 and was signed with RCA Records by age 15.  
​
In 2001, the stars aligned and The Calling was born, exploding onto the airwaves with their smash hit, "Wherever You Will Go", which reached the top of the charts and stayed there for a record 23 weeks straight. 
​
Through years of hard work and touring every inch of the planet, The Calling found global success and the best fans in the world.
Seven #1 songs worldwide and over 20 million albums sold, the song that started it all, "Wherever You Will Go" was named the #1 Song Of The Decade and the #3 Adult Pop Song of All Time by Billboard Magazine. 
 
​"Wherever You Will Go" has been featured in a number of movies and TV shows including Love Actually, Coyote Ugly, Smallville and Kate and Leopold.
​The Calling´s debut album, Camino Palmero, was a true international hit, becoming Certified Gold and/or Platinum in over 40 countries.
 
Before releasing their next album, Band was given the opportunity to work with guitar legend, Carlos Santana, and sing the huge hit "Why Don't You and I" which has been named the #5 Song Of The Decade and the #20 Adult Pop Song Of All Time by Billboard. 
​
The Calling's second album, Two, ​found its groove internationally, going #1 in the UK, Japan, Brazil and Canada.   Two's lead single, "Our Lives" was featured in the closing ceremonies of the 2004 Summer Olympics and was also the opening song of the 78th Academy Awards in 2005.  
​
Alex took a hiatus after touring for Two to care for an ailing family member  and navigate an ever-changing music industry.  Band never gave up though, he pushed forward, writing and producing his first solo album with
 the first single, "Tonight", becoming the theme song for the 2011 World Cup.
 
Alex has been pushing forward ever since, never giving up on himself or his music and is currently ready with a new album that is promised to be his most diverse collection to date. 
Location
Matrix Bochum
Hauptstraße 200
44892 Bochum
Germany
Plan route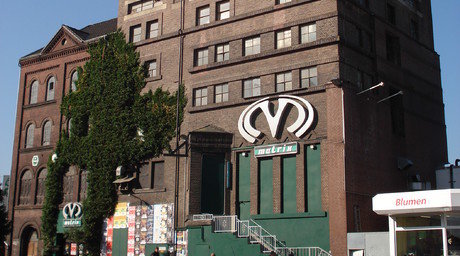 Sie ist skurril, mysteriös, verwinkelt und vor allem riesig: Die Matrix in Bochum ist eine der größten Diskotheken des Ruhrgebiets und hat sich bereits weit über die Grenzen der Stadt hinaus einen Namen gemacht.

Die Matrix befindet sich in einem elfstöckigen ehemaligen Brauereigebäude, das bereits 1806 erbaut wurde. Ab dem Ende der 1970er Jahre wird der Gebäudekomplex als Diskothek genutzt und entwickelte sich unter dem Namen "Rockpalast" zu einer Pilgerstätte für Anhänger der Metal- Szene. Seitdem der Laden im Jahr 2000 Besitzer, Konzept und Namen wechselte, erweiterte sich nicht nur das musikalische Angebot, sondern auch der Personenkreis, der nun die "Matrix" besuchte. Aus einem Labyrinth aus mehreren Etagen und insgesamt 4 Areas mit jeweils unterschiedlichen musikalischen Schwerpunkten, dringen die verschiedensten Klänge. Feiern kann man hier sowohl zu Rock, Pop aber auch zu Dance- und Chartmusik. Das Aushängeschild des Clubs ist allerdings nach wie vor das erstklassige Konzertangebot. Hier spielten bereits einige der bekanntesten nationalen und internationalen Rockbands wie beispielsweise Slipknot, Bullet for my Valentine, Boss Hoss, Danko Jones, Slayer oder Europe.

Erleben Sie mitreißende Konzerte, Feiern Sie durch die Nacht – Die Matrix wird Sie so schnell nicht mehr loslassen.